General marketing conditions
Your contract will be sent to you on the date of the reservation of your trip or of your customized tour.
PRICES
All our prices are given in USD. VAT is always included in the price given.
Only the services clearly mentioned in the descriptions of the trips, tours and holidays are included in the price. The following services, which are not mentioned in the descriptions, are not included in the price.
Any service prior to check-in at departure and any service after passing through customs on your return;
any personal expense such as tips, telephone calls, deposits, etc.;
Vaccination fees;
Insurance;
Optional excursions as well as any other service not included in the trip description;
Excess luggage;
Beverages consumed during meals.
BOOKING AND PAYMENT
By booking we mean any request for booking submitted by the customer once the availability is confirmed by MOTAÏBA ;
A reservation is only valid once it has been received by MOTAÏBA.
The confirmation of a booking by the customer can be done by e-mail, fax or telephone.
A deposit of 30% of the total price of the trip must be made on booking.
All payments must be made at MOTAÏBA's headquarters or at an agent's designated by MOTAÏBA.
CANCELLATION AND REIMBURSEMENT
All requests for cancellation must be addressed in writing (e-mail or fax) to MOTAÏBA;
The date on which the written request for cancellation reaches MOTAÏBA will be the date retained for cancellation.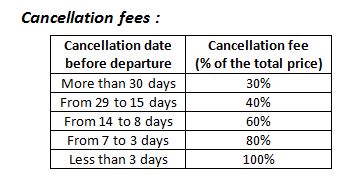 FORMALITIES
The customer is informed about the various administrative and sanitary formalities to be undertaken before any trip to Vietnam. This information is given for information only and MOTAÏBA will not be held responsible for any future change in the laws regarding these formalities. It is the responsibility of the customers to check all formalities before departure and to respect the regulations of the country in which they are travelling up to the date of departure.
Visa: a visa is necessary to travel to Vietnam.
Vaccination: No vaccination is required.
Precautions: take the appropriate anti-malarial treatment.