South Vietnam  & its Sampan Delta
Our "Life on the River" cruise gives you a deeper insight into life in the Mekong Delta.  At the halfway mark lies Sa Dec, a charming, quaint little city at the crossroads of several cultures – Vietnamese, Chinese, Khmer and French – which played an important part in the development of the Mekong Delta under the French colonial influence in Indochina. It is now mostly known for being the setting of "The Lover" in the eponymous novel and film by celebrated French writer Marguerite Duras.
Can Tho is the largest city in the Mekong Delta, and is mostly known for its floating market, the largest of the region. Along the river you can visit a colorful Khmer temple and nursery gardens on stilts where local farmers grow chili peppers, aubergines and varied herbs – visit Tiger Island, the wholesale floating market and many things to be discovered in the heart of the nature.
From one day to three days cruises service give you an opportunity to explore three different areas in the Mekong Delta, depending on your next destination or your expectations between :
Can Tho – the rice bowl of Vietnam
Chau Doc – on the border with Cambodia
Rach Gia – the gateway to Phu Quoc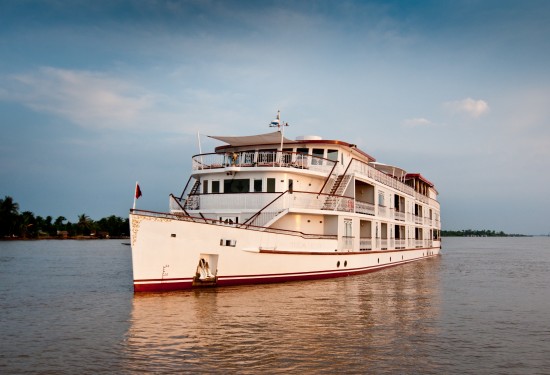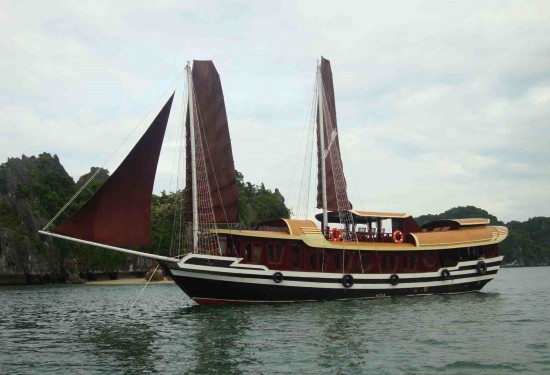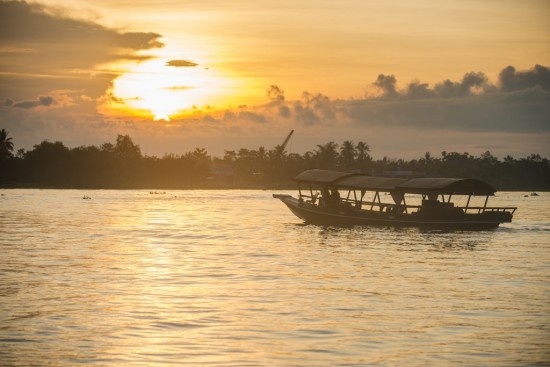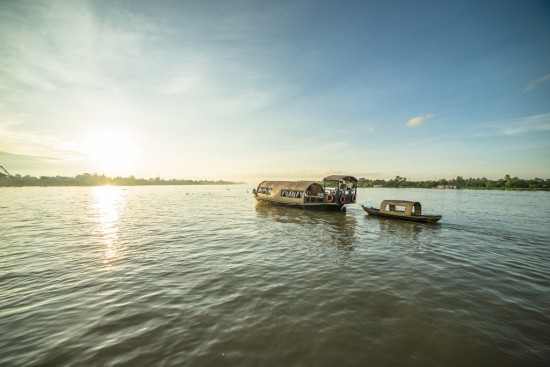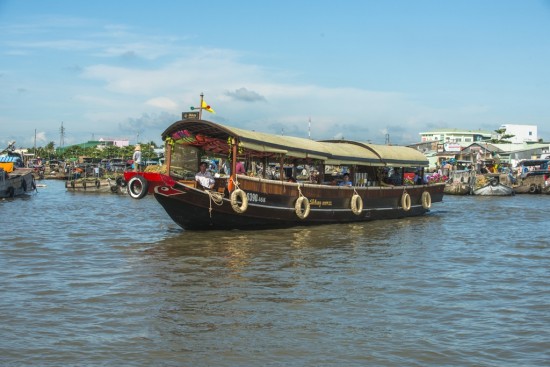 Vietnam / Cambodia & Cambodia / Vietnam.
Our exciting itineraries will take you from Vietnam to Cambodia aboard a luxury yacht. Upstream (from Vietnam to Cambodia) or downstream (from Cambodia to Vietnam), these trips offer you a unique insight into the daily life on the Mekong River. You will sail in the comfort of your colonial-style boat through the canals, jungles and floating villages, allowing you to see much more than the usual tourist sites.
Cruise 4 days / 3 nights and 3 days / 2 nights are also operated in Cambodia on the Mekong and Tonle. A consult us.
With architecture and modern comforts, the junks with which you have browsed will bring you an excellent experience in doing the cruise in Halong Bay, eighth wonder of the world.
In addition to beautiful scenery, Halong Bay also contains the hidden beauties of its mysterious caves. Many popular legends are attached to these caves. Each is unique. This impressive network has been declared a World Heritage by UNESCO.
Experience, unlimited choice, price, product diversity, proximity to interlocutors with MOTAÏBA: you have all the assets to succeed your group trip.
Laos
We offer cruises from Luang Prapang or Houei Say or Pakse.
Our travellers embark on 2 or 3 days by discovery journey along the course of inaccessible jungle & mountains of the mighty Northern Mekong, the lifeblood of Laos, and spend the night in the Lodge or Homestay.
You may spent 2 nights journey expedition abroad our luxurious ship and explore the splendor of the mighty Southern Mekong River and the mystical UNESCO Vat Phou temple.
We offer the choice of cruises on a shared boat but also the possibility of doing upstreams or downstreams the Mekong by private boat upon your request. We remind that our services are "à la carte" according to your needs, your budget and your expectations.
Unforgettable impressions of the mighty Mekong River, the "mother of waters" for 11 days/ 10 nights and get first-hand experience of the Thaï and Lao peoples' traditional lifestyles. The Golden Triangle region, with its infamous past, where Thaïland, Myanmar, and Laos meet.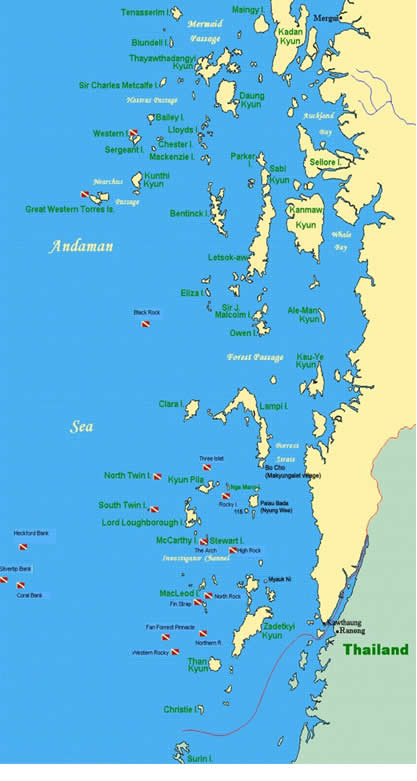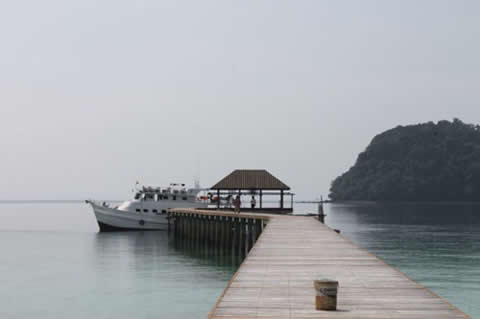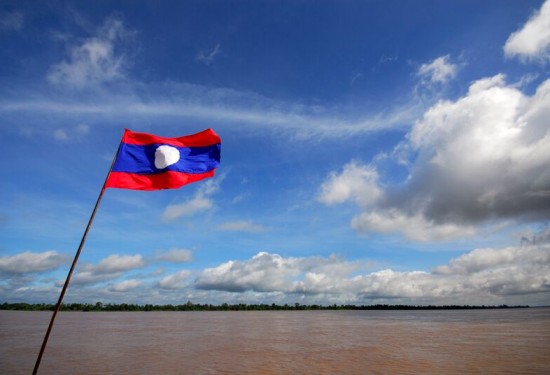 Myanmar.
Our cruises

Diving

:
The coastline of Myanmar stretches over 2832 km long from the Bay of Bengal to the Andaman Sea, further south of Myanmar.
That is to say that when we tell our travelers that this country is the biggest in South East Asia, it is not for nothing!
It offers hundreds of beaches and islands along the coast. There are many pristine beaches to explore in Myanmar and among it is to "Kawthuaung".
It is here, at 3am flight from Yangon via Dawei and Myeik we decided to explore our marine activities and diving. At the farthest, the rarer and more intense …
Silky sand, crystal clear sea, current coconut plantations on the coast, fishing villages and their markets to lively fish, a preserved nature very few tourists … and diving programs we offer for the greatest delight lovers of the seabed.
For those who are "fans" of diving, we have developed our business in the unique area of ​​"Kawthuaung" due north. Our cruises will satisfy passions for divers wishing to practice on local sites or offshore. We offer many programs and diving cruise itineraries from 4 days / 3 nights and 3 dives per day. Our boarding site is located in this archipelago where wildlife and underwater flora are very varied and rub toddler and very big.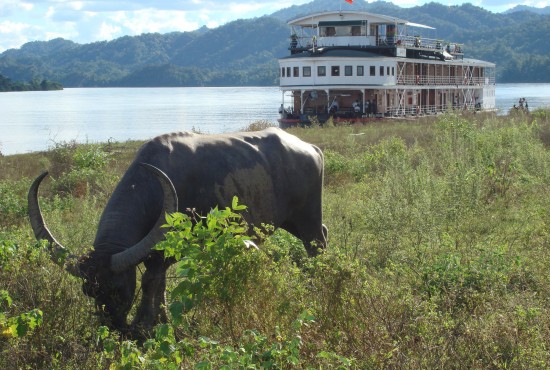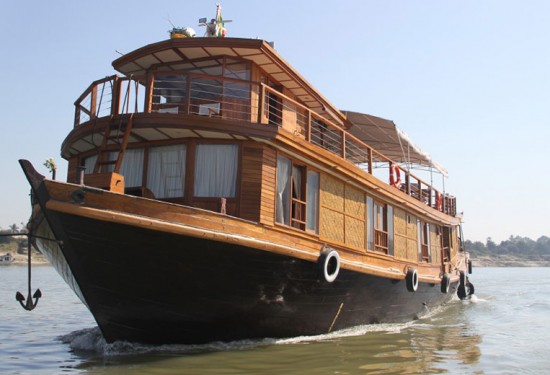 Myanmar
Cruise on Irrawaddy or Ayawarddy :
The center of Myanmar (Burma) combines the best of lush wildlife, exciting cottage industry and diverse history, all waiting to be discovered on this exciting journey. Cruising to the Ayeyarwady river and enjoy a memorable cruise.  You'll head out on an exciting cruise down the Ayeyarwady river.
Enjoy the beautiful landscape, then sit back and relax as you float down the Ayeyarwady valley. Enjoy dolphin excursion, visit to a local fisherman village, relax on board before to stop different villages as Kyauk Myaung one, stay on board among calmly rocks to sleep under a star-blanketed sky.
Myanmar
Luxury

Cruises

Yachts
Virtually unknown to the outside world, the Mergui Archipelago is located in Myanmar's (Burma's) remote south: a group of 800 deserted islands that lie at the heart of our sailing area.
Think white beaches lined with palm trees and dense jungle. Think swimming in azure water amongst colourful reef fish, spotting corals, and collecting seashells.
At Motaïba, we organise sailing holidays in Burma (Myanmar) and in South East Asia. You can do the sailing yourself or we can do it for you.
You can go for 5 days or 5 weeks. And you can chill on empty beaches, drink at hand, or go race the dolphins. It's your choice.
We are a group of passionate sailors who were spellbound when we first sailed into Myanmar's waters. We discovered pristine islands, beautiful beaches, and welcoming people. Right there and then, we decided to share these wonders